Website redesign and SEO for gym design experts, IndigoFitness
.
We have worked with IndigoFitness on a wide range of services; including the creation of the new website, SEO and videos. The new website helped bring clarity to their users as and a modern edge to their competitors. We hope you love this project as much as we enjoyed creating it!
Website Design
Website Development
Graphic Design
UX Design
SEO
Photography
Video Production
Virtual Tour
Brochure Design
Watch the video Octave created for IndigoFitness of a gym design project
.
The full website redesign package
.
We're proud to work with IndigoFitness to create a website that both looks great and outperforms its competitors. By continuously working with IndigoFitness on their SEO, we're able to help digitally grow their business into the leading gym design, installation and gym equipment manufacturer in the UK.
Do you have a project you think we could help you with?
Get in touch today and we'd love to discuss it with you!
Web design & development
.
We created a brand new website for IndigoFitness using WordPress. The brief was to showcase their products and services in a modern and clean way with the goal to attract more leads for their services.
Octave combine functionality and visual design to create smooth-running, beautiful websites that customers enjoy using. We design and build with a user-centred approach for the best results for our clients and their customers.
We used in-depth analytics to guide our SEO strategy which improved IndigoFitness' search engine ranking to hit top spot on Google for their main keyword.
We currently work with IndigoFitness ongoing to improve their search results across multiple keywords.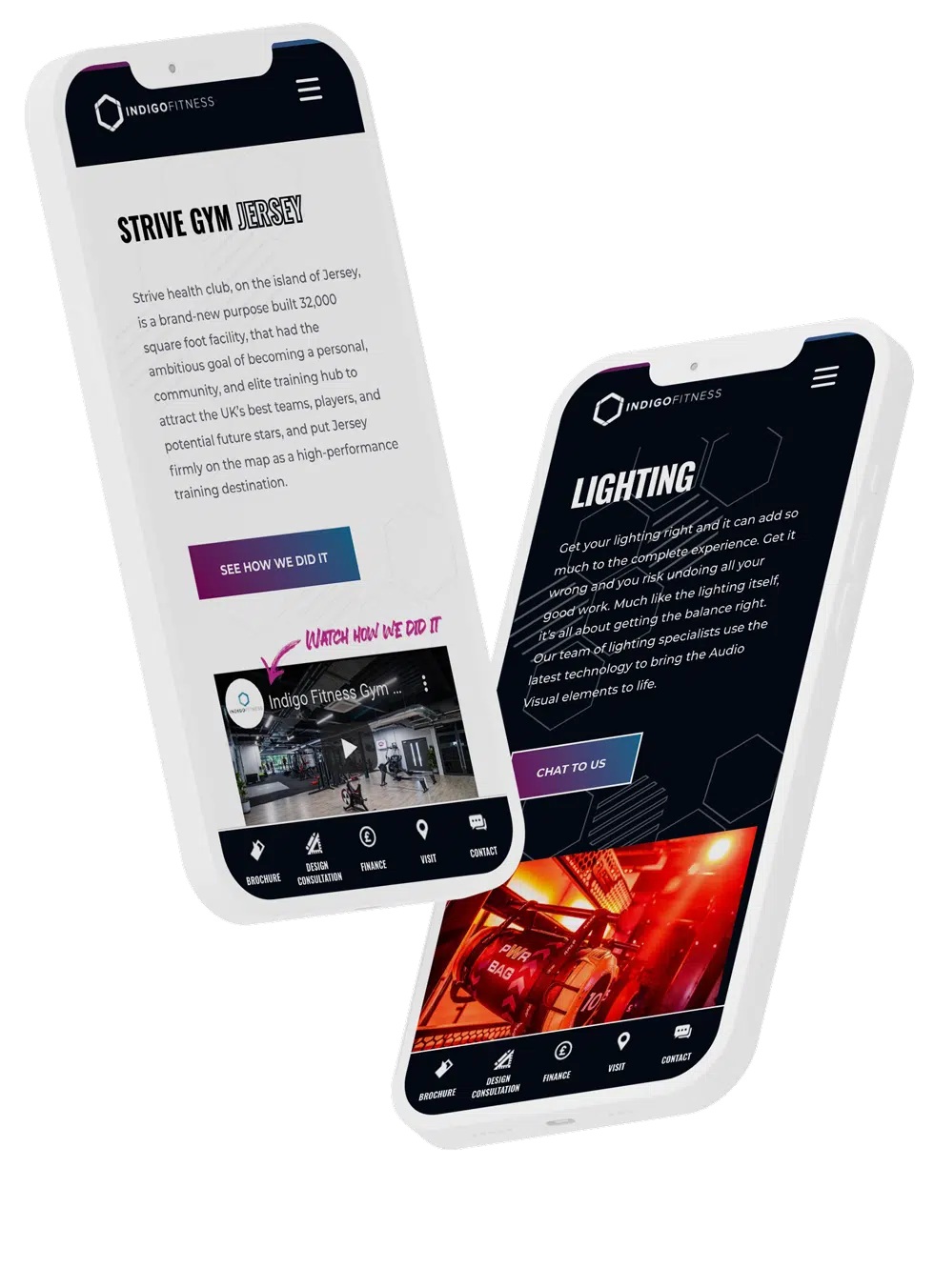 We were delighted to shoot video, photography and a virtual tour for one of IndigoFitness's finest gym installs at Strive Fitness. Please click the button below to view the full case study. 
Octave designed the company brochure for IndigoFitness with a sleek, modern aesthetic which encompassed the brand and reflected the style of the new website.
Ready to chat about your project?
Get in touch today to see how we can help your business achieve its full potential online.